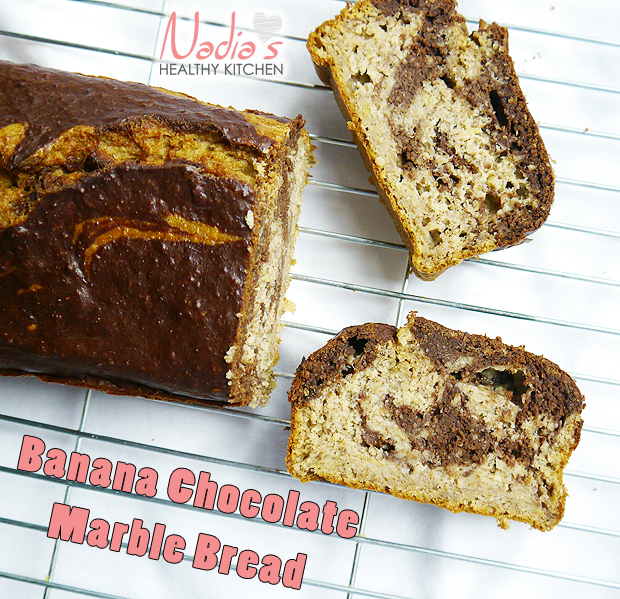 How pretty is a loaf of marble bread? I love the patterns you end up with on each slice. I also love how you get a mixture of vanilla cake and chocolate cake in the same bite! Although in this case it would be banana cake and chocolate cake because I'm making a clean eating banana chocolate marble bread 😀 (with a hint of peanut butter ;))
Do you like any of the following?
Banana bread?
chocolate marble bread?
chocolate banana bread?
If your answer is yes, then you'll definitely like this recipe! It's a combination of all 3!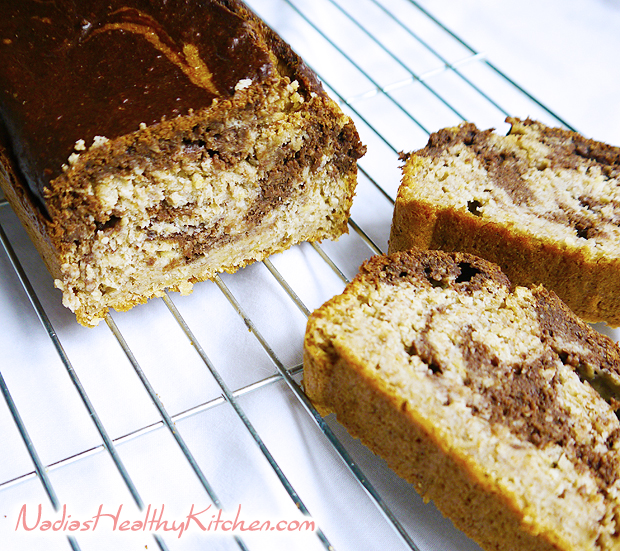 [recipe_box]
Clean Eating Banana Chocolate Marble Bread
Serves: 16
Dry ingredients:
1 cup spelt flour
1 cup oat flour
½ tsp baking powder
½ tsp baking soda
¼ tsp salt
¼ cup stevia
2 tbsp cocoa
Wet ingredients:
3 large ripe bananas
¼ cup yogurt
2 eggs
2 tbsp peanut butter
2-3 tbsp honey
3 tbsp almond milk
1 tbsp coconut oil
¼ tsp vanilla paste (or 1 tsp vanilla extract)
Directions:
Preheat the oven to 160°c (350°f)
Line and lightly oil a loaf tin.
In a large bowl, mix all the dry ingredients together (apart from the cocoa!)
In a separate bowl, mash the bananas using a fork until you have a smooth paste. Mix in the eggs, yogurt, honey, vanilla paste, then add in the dry ingredients and mix well.
Now transfer 1/3 of the batter to a separate bowl, this will be the base of the chocolate part.
To make the chocolate peanut butter batter, add the cocoa, peanut butter and milk.
Add 1 tbsp coconut oil to the original vanilla batter.
Now this next step can be done in 2 different ways: You can either drop spoonfuls of the vanilla mixture spaced out by dollops of the chocolate mixture and continue doing this until you used up all of the batter. Alternatively (This is what I did), drop about 1/2 the vanilla batter into the loaf tin, then drop big spoonfuls of the chocolate batter leaving gaps between each spoonful, then drop in spoonfuls of the remaining vanilla batter in the gaps.
Using the end of a sharp knife (or anything long and fine like a toothpick), start swirling! Make sure not to overdo it though otherwise you'll just end up mixing the 2 batters.
Bake for 50-60 minutes.
[/recipe_box]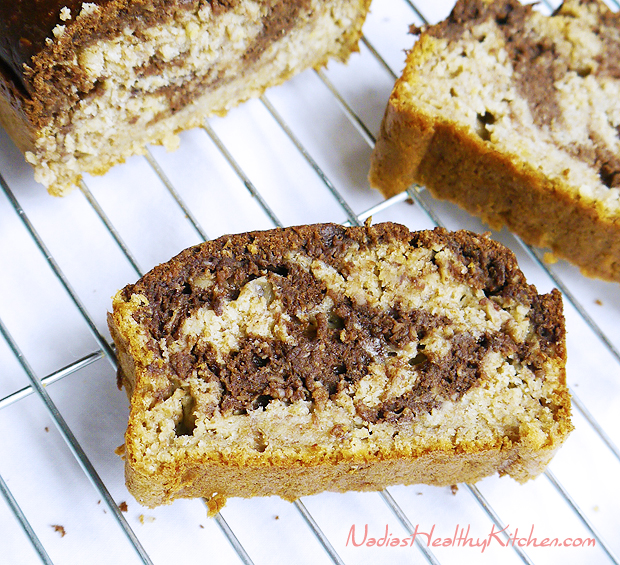 This marble bread will last a few days in an airtight container. I do find that when using stevia, baked goods tend to start tasting weird after a few days. It leaves you with a bitter after taste which I despise! I'm not sure if it's all brands of stevia or just the particular brands I've tried (I've only tried 2!). So when I do bake, I make sure I don't make a big batch or that it all gets eaten within 3-4 days!
Has anyone else experienced this? Please let me know, I need your input!
Nutritional Information:
Share This Post