Clean Eating – 1 Minute Chocolate Chip Cookie:
It doesn't get easier (or faster) than this! A clean eating chocolate chip cookie that only requires 1 minute of cooking time! And the preparation doesn't take much longer! All you have to do is mix a few ingredients together and bung it in the microwave! Perfect!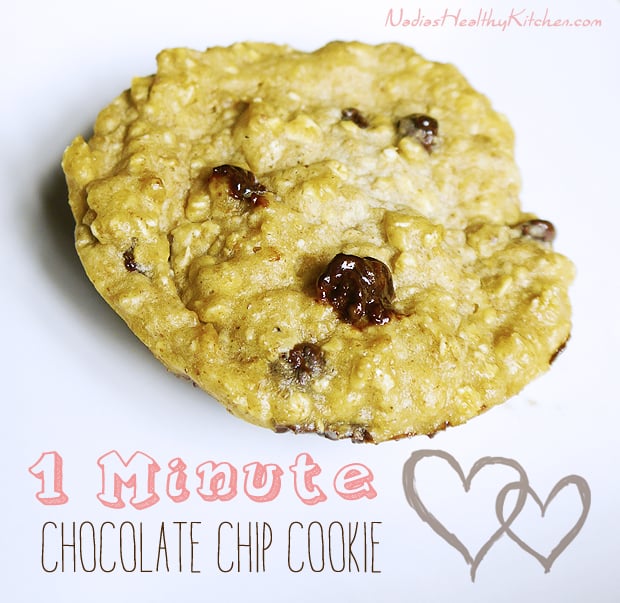 To make this Cookie, I made the following healthy substitutions:
Instead of using regular bleached white flour, I used oat flour.
Instead of using sugar, I used stevia.
Instead of butter, I added Greek yogurt.
You can use dairy free chocolate chips, carob chips or even raw cacao nibs instead of regular chocolate chips!
[recipe_box]
Clean Eating – 1 Minute Chocolate Chip Cookie
Servings: 1
Ingredients:
1/4 cup oat flour
1 tbsp stevia
1 egg yolk
1 tbsp Greek yogurt
1/4 tsp vanilla extract
Pinch of salt
1-2 tbsp chocolate chips
Directions:
Lightly oil a microwavable dish
Mix all the ingredients together.
Cook in the microwave on full for about 1 minute.
[/recipe_box]
You can store the leftover egg in the fridge for a couple of says and use it in an omelet, scrambled egg, cook it with your oatmeal, in baked goods…the list is endless! Or you could freeze it in s container and use when needed!
If you're in the mood for a quick cake instead, try my clean eating chocolate mug cake. Just like this clean eating chocolate chip cookie, it only takes 1 minute to cook!
Share This Post