Cinnamon Maple Almond Butter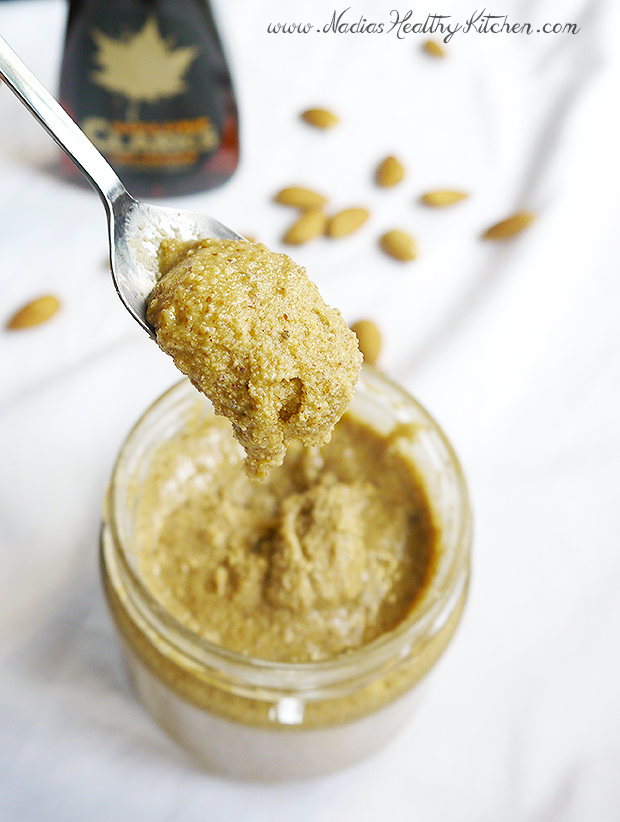 For a very long time I was too afraid to attempt making my own nut butters. Since I only have a basic food processor, I assumed it wouldn't handle grinding nuts into a smooth, silky butter. I thought unless I had a powerful processor like a Vitamix, I shouldn't even go there!
That changed once I had a conversation with someone on Instagram who posted a picture of delicious looking almond butter. She informed me that she, just like me, only has a basic food processor and yet still ended up with perfect results! How can I NOT try it now? I just had to!
It may take longer to get the butter to a smooth consistency using a 'normal' food processor, but with a little bit of help it will get there eventually. It can get a little noisy so what I did was put my food processor in another room and left it to do its thing for a few minutes, checking every now and then.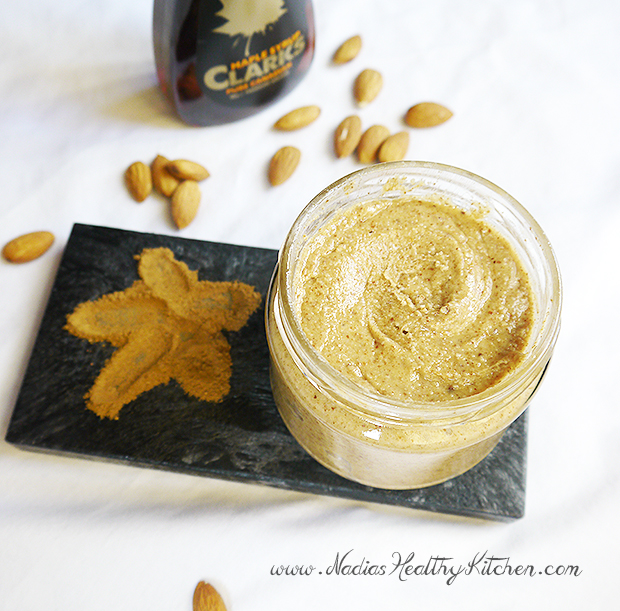 There are a couple of things I love about making home made nut butters:
You can flavour it how ever you want. You can have it plain, with spices, sweetener, cocoa, dried fruit…there are so many combinations to try.
It's so much cheaper!
So unless you don't own a food processor, there is no excuses for you NOT to try this recipe 🙂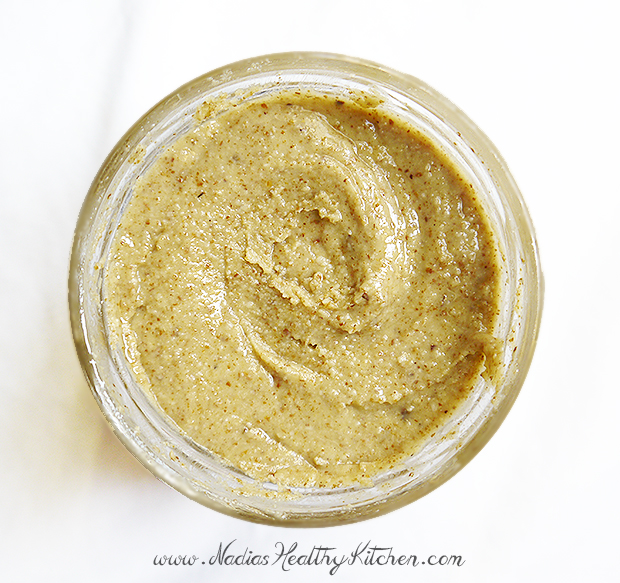 [recipe_box]
Cinnamon Maple Almond Butter
Ingredients:
2 cups almonds
1/4 cup maple syrup
1 tsp cinnamon
Salt to taste (I used 1/4 tsp)
1/4 tsp vanilla paste (or 1 tsp vanilla extract)
Directions:
First roast the almonds – preheat your oven to 350*F (180*C). Place the almonds on a baking sheet and roast for 15-20 minutes, then take out and leave to cool.
Place the almonds in the food processor and start blending. Stop every couple of minutes to scrap down the sides. (I processed mine for about 15 minutes. You can add some oil if you want to speed up the process but if you're patient, you'll get the desired consistency without the need to add oil)
Once you have a smooth mixture, add in the rest of the ingredients and plus for a few seconds to make sure the flavours are well incorporated. At this point you can give your almond butter a taste and make any adjustments you feel necessary.
[/recipe_box]
Now…how to eat your cinnamon maple almond butter? Well, here are some ideas to get your imagination going:
On some lovely warm toast
Dunk a BIG spoonful in your oatmeal
Use it to add loads of flavour and healthy fats+protein in your overnight oats
Make an almond butter & Jelly sandwich!!
Use it in baking – almond butter cookies?
Spread it on chopped banana slices for a healthy snack
There are so so so many more things you can do with almond butter. Or you can keep it simple and eat your cinnamon maple almond butter straight out of the jar with a spoon 😀 x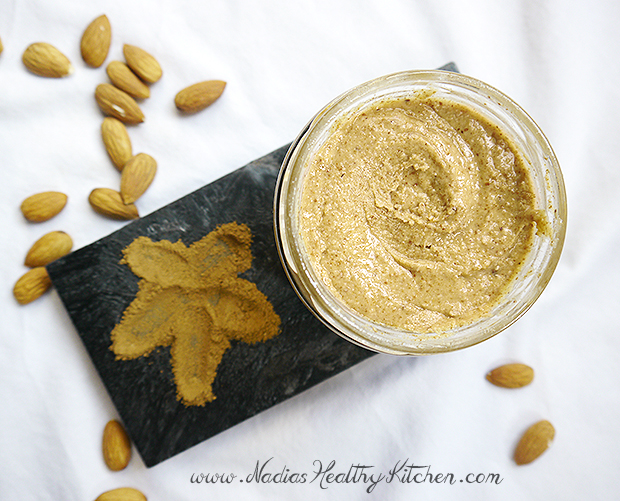 Share This Post