Chocolate Tofu Muffins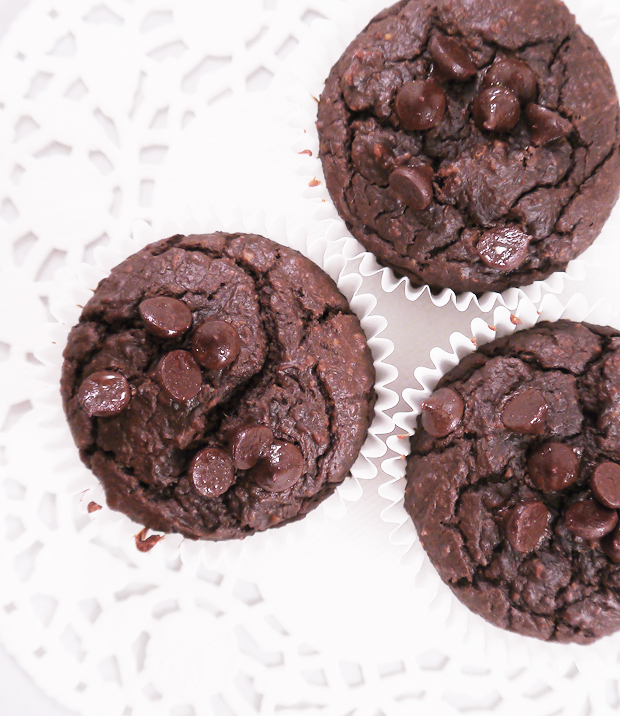 Tofu is such a great ingredient to use for baking. I find that it gives a lovely moist texture to the baked goods so I tend to use it a lot when I'm making cakes, cupcakes and muffins.
These chocolate tofu muffins are dairy free and can easily be made vegan friendly.
[recipe_box]
Chocolate Tofu Muffins
Makes: 9 muffins
Dry Ingredients:
1/2 cup spelt flour
1/4 cup oat flour
5 tbsp cocoa
1/4 cup xylitol
1 tsp baking powder
1/2 tsp baking soda
1/4 tsp salt
chocolate chips
Wet Ingredients:
1 cup tofu
1/4 cup almond milk
1 egg (or a vegan substitute)
1/4 tsp instant coffee, dissolved in 1 tbsp of water.
1 tsp vanilla extract
20 drops stevia
3 tbsp oil
Directions:
preheat your oven to 180*c/160*c fan assisted (350*f) and line a muffin tin with muffin cases.
In a large bowl, mix together all the dry ingredients.
Using a hand blender, blend the tofu until you're left with a smooth paste. Then mix in the rest of the wet ingredients.
Pour the wet ingredients into the bowl of dry ingredients and mix until well combined.
Drop a couple of spoonfuls of the batter into the cases, then sprinkle with some chocolate chips
Bake for 20 minutes then leave to cool completely.
[/recipe_box]
Share This Post