Chocolate Tahini Oat Bars
I do love a good no-bake recipe, especially during summer when it's too hot to turn the oven on. The last thing you want to do on a scorching hot day is to add even more heat by turning on the oven.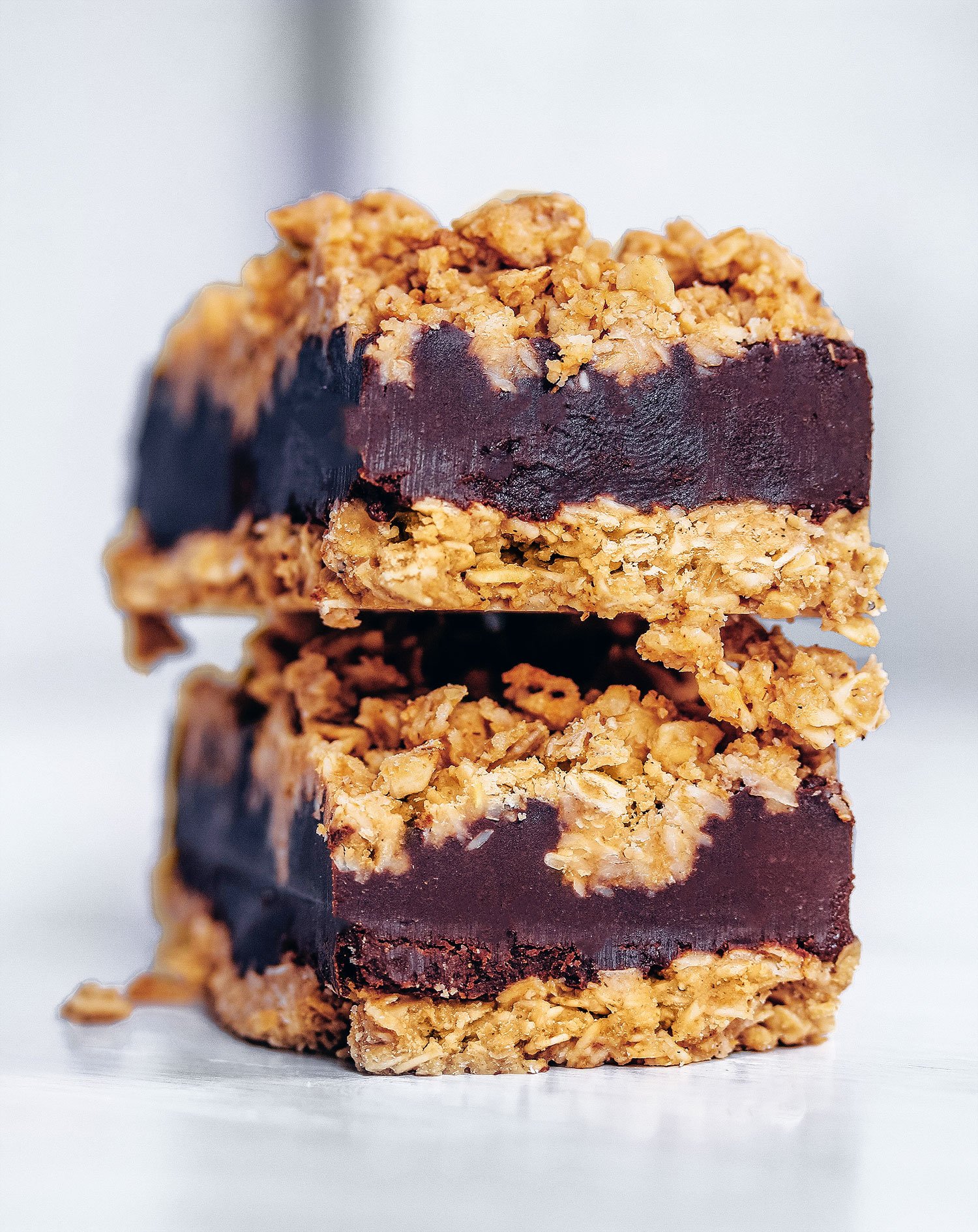 These no-bake chocolate tahini oat bars are the perfect, no fuss, quick and easy treat that takes no time to prepare so you can spend more time out in the sun taking advantage of the lovely weather while it lasts. Because let's face it, UK isn't exactly known for its long, perfect summers.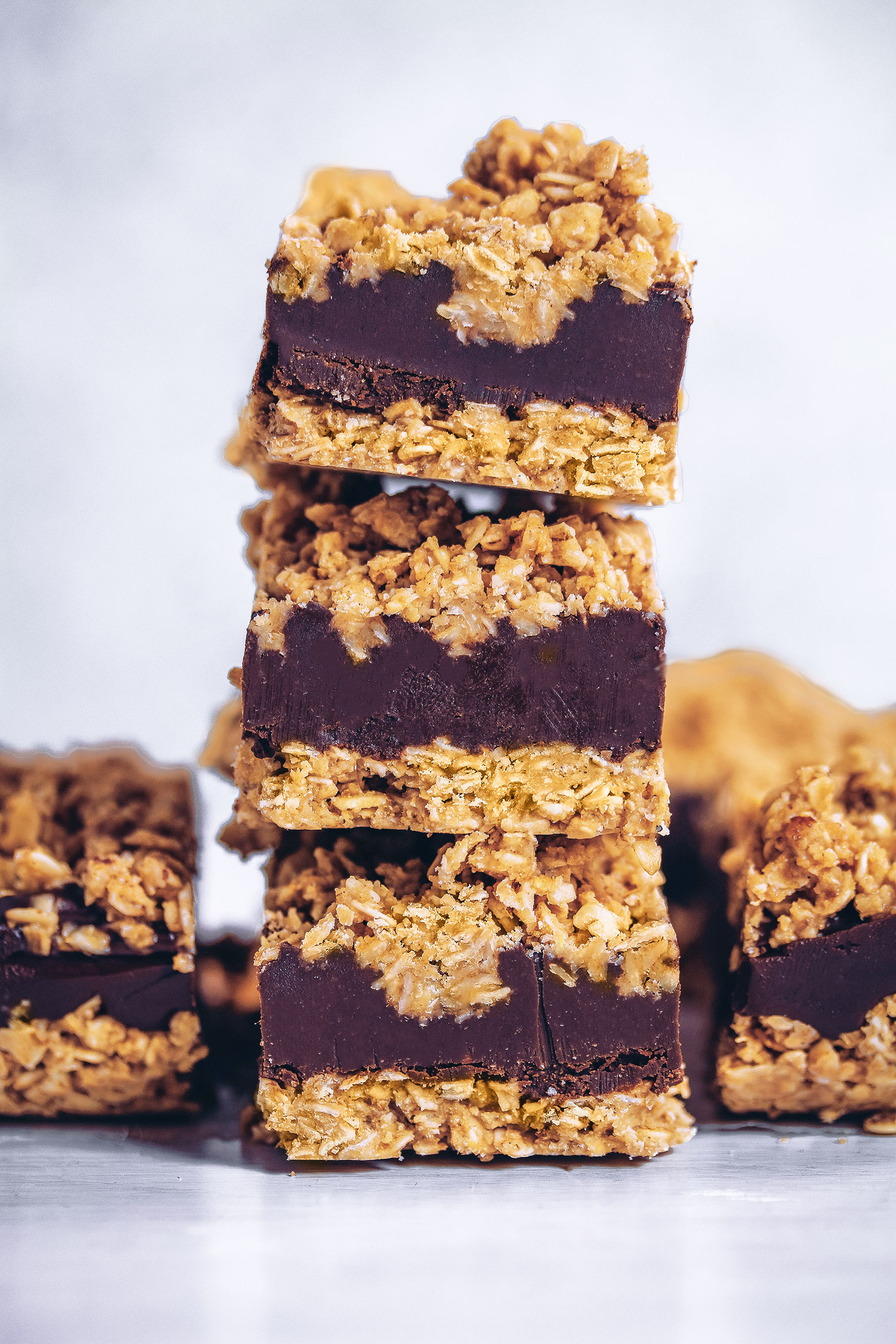 This is yet another recipe of mine that features tahini. I just can't get enough of the stuff. I loved it way before it ever became cool and trendy in the west. I literally grew up eating it in desserts, condiments, but more often for breakfast. It's such a versatile and nutritious ingredient. You can expect to see a lot more tahini recipes from me in the future because I will never grow bored of it nor will I stop experimenting and creating new recipes with it!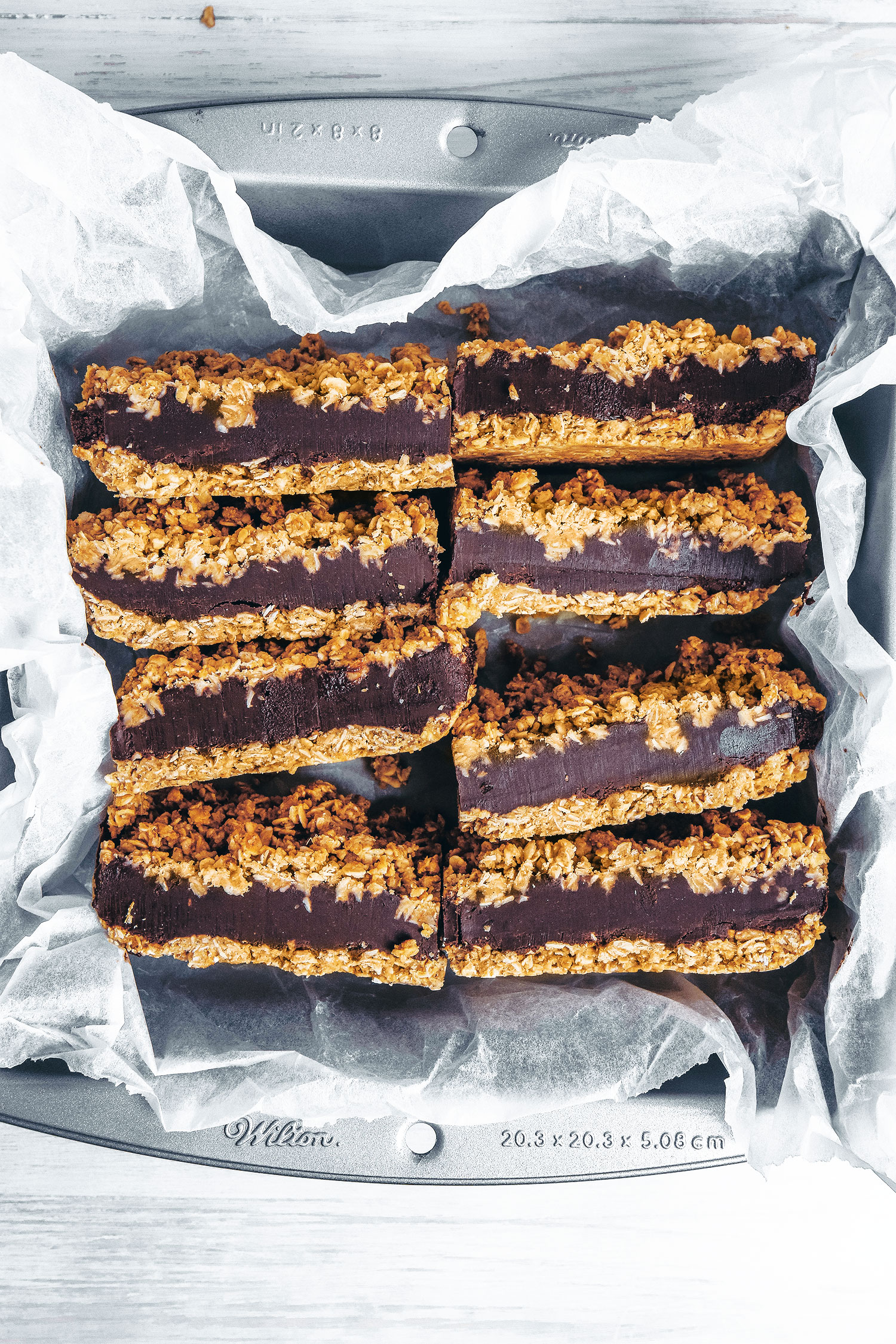 So the recipe is pretty basic and only calls for a handful of ingredients and two bowls – one for the oat mixture and another for the chocolate tahini centre. But it literally is a case of mixing stuff in a bowl and refrigerating it to set. It's a real fail proof recipe that anyone can make. Even those with zero cooking and/or dessert making experience. It's also a fun one to get the kids involved with 😀
---
Chocolate Tahini Oat Bars
Makes – 8 big bars or 16 squares
For the oat layer:
1.5 (155g) cups oats – use gluten-free oats if allergic/intolerant to gluten
1 cup (110g) oat flour – rolled oats blended into a flour in the food processor. Use gluten-free oats if allergic/intolerant to gluten
1/2 tsp green cardamom powder
1/4 tsp salt
1/2 cup (120ml) coconut oil
1-2 tbsp date syrup or any liquid sweetener. I used 1 tbsp, but you may need a little more depending on the texture of the oats/oat flour
Filling
140g dark chocolate – I used 70%
1/2 cup (120ml) Tahini
2 tbsp date syrup – or any other liquid sweetener
Method
Mix the oats, oat flour, salt and cardamom in a bowl, then pour in the coconut oil and date syrup.
Press 2/3 of the mixture into a 7" square tin lined with parchment paper (or you can use an 8" round tin).
Place in the freezer for 15 minutes. In the meantime prepare the chocolate filling.
Break up the chocolate into a heatproof dish and add in the tahini and date syrup. You can either melt it over a pan of boiling water or in the microwave.
Pour the mixture over the oat base, then sprinkle over the remaining 1/3 of the oat mixture.
Return to the freezer for 30-60 minutes.
Enjoy!!
---

Share This Post