Chocolate Matcha Ice Cream Sandwiches
I recently posted a vegan tahini popscile recipe that so many of you loved, which inspired me to create another healthy vegan ice cream recipe. This time, it's an ice cream sandwich recipe. Homemade matcha coconut ice cream sandwiched between 2 raw chocolate cookies, then dipped in chocolate and chopped pistachios to make them even harder to resist!
With these chocolate matcha ice cream sandwiches you're getting the best of both worlds – cookies and ice cream! There is something so satisfying about biting into an ice cream cookie that you just don't get from eating ice cream alone.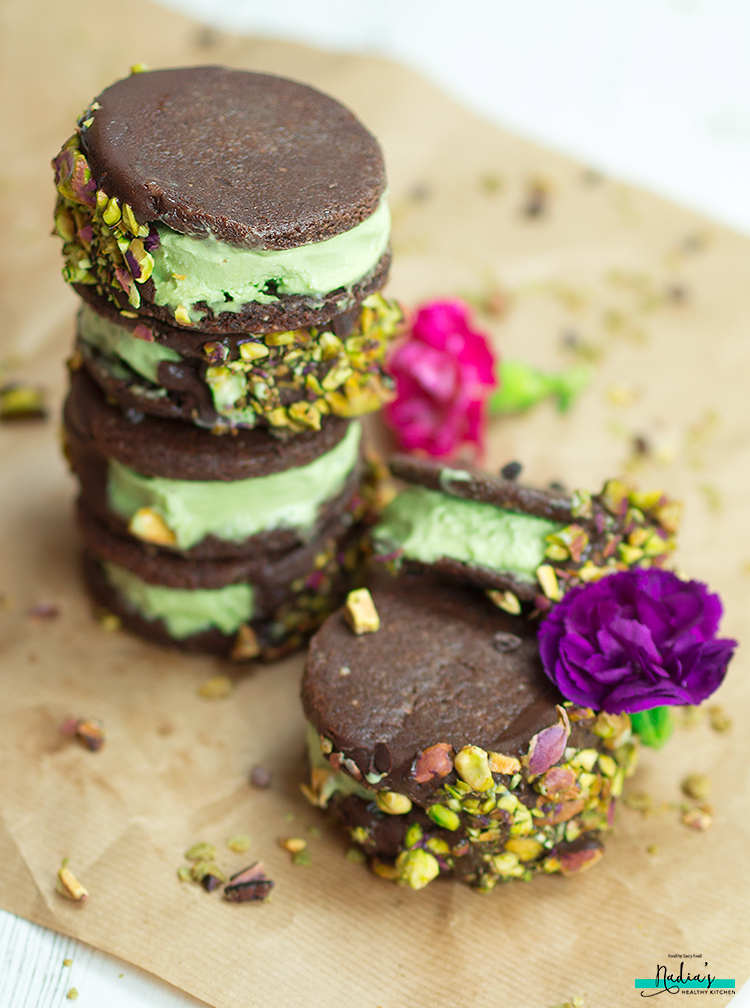 I've only ever had an ice cream sandwich once, when hubby and I were on our honeymoon and absolutely loved it! However, it did leave my stomach feeling heavy, uncomfortable and I felt lethargic the remainder of the day. The combination of cream, sugar and refined carbohydrates just didn't sit well with me at all!
I'm showing you how to make a much healthier version that is wheat-free, refined carbohydrates-free, dairy-free, lower in sugar and higher in fibre (from the dates), good fats (from the cashews) and antioxidants (from the matcha green tea powder). They're so much better for you but still taste delicious, decadent and satisfying.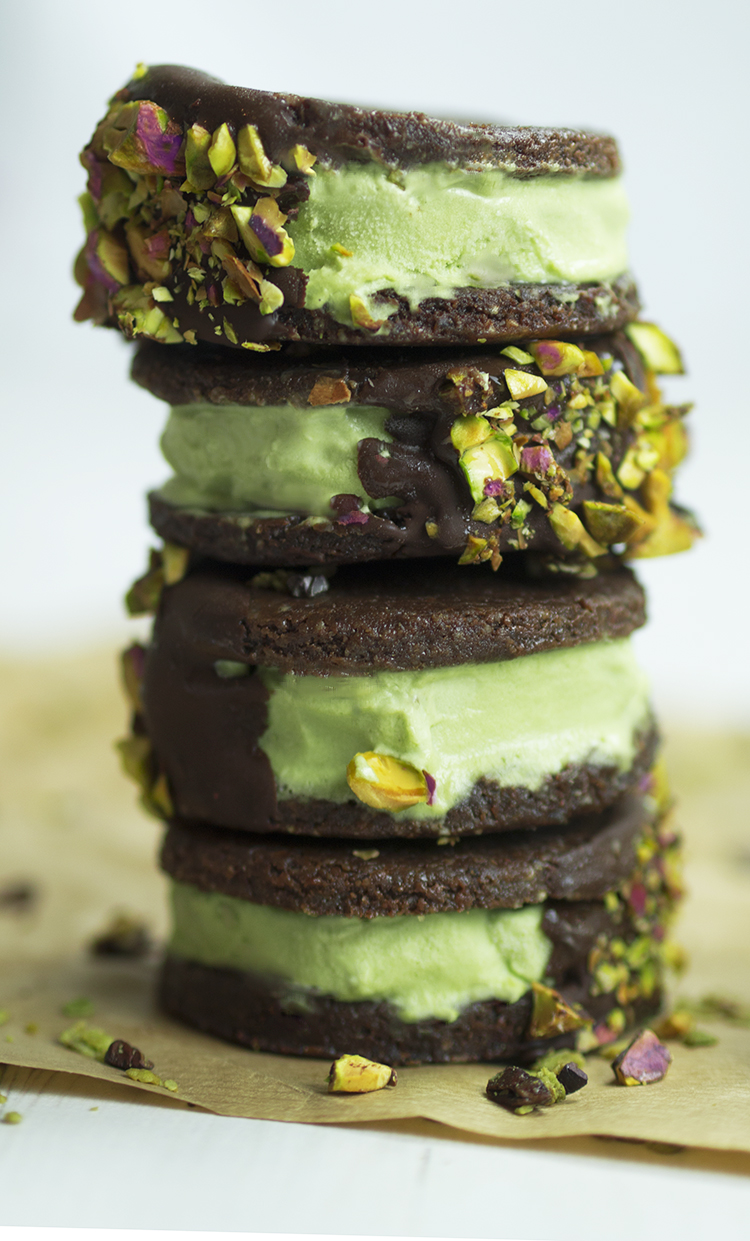 For the raw chocolate cookies, I'm using a simple mixture of cashews, dates, cocoa/cacao powder and salt…that's it! They even taste amazing on their own without the ice cream 😉
I'm using PureChimp green tea matcha powder to add flavour, a gorgeous pastel green hue and lots of antioxidants!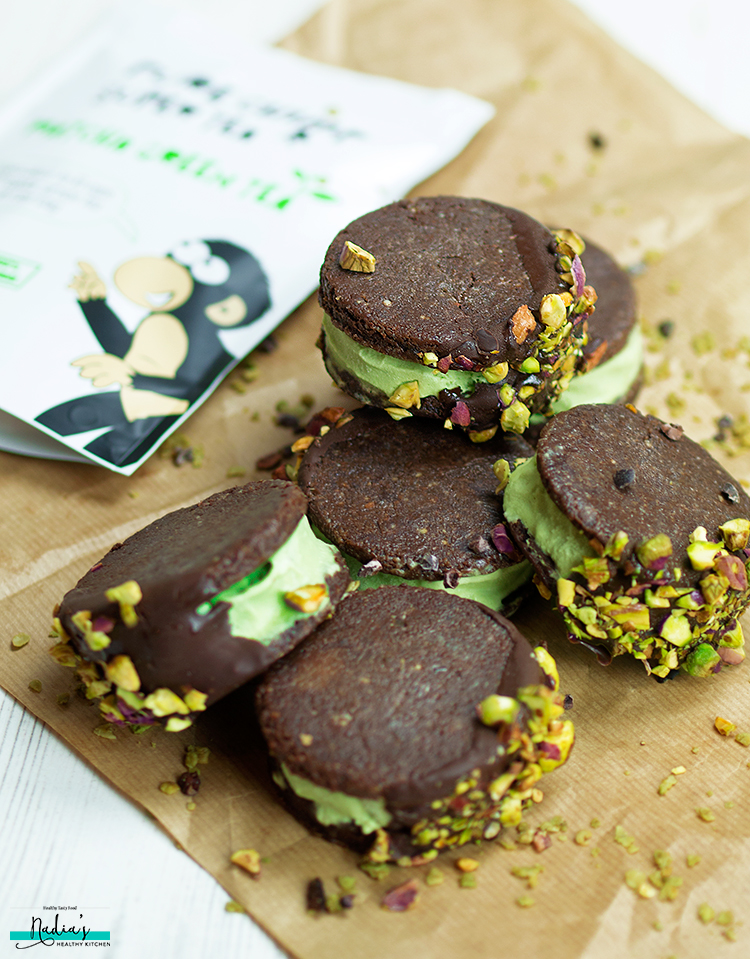 To make them taste even more scrumptious and to give them a little more character, I dipped them in melted dark chocolate and chopped pistachios. I love the crunch you get when you bite into one 😀 too good!
WATCH THE VIDEO ABOVE to learn how to make these chocolate matcha ice cream sandwiches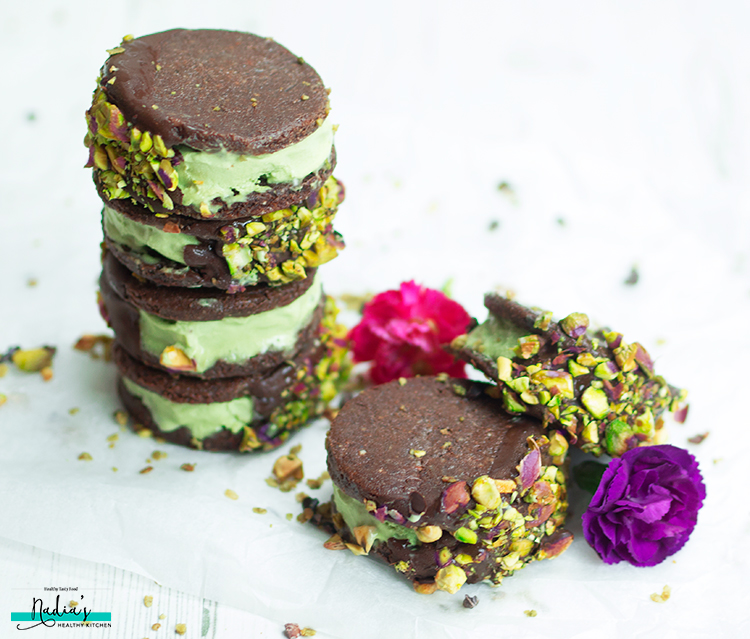 Chocolate Matcha Ice Cream Sandwiches
2016-08-10 11:18:34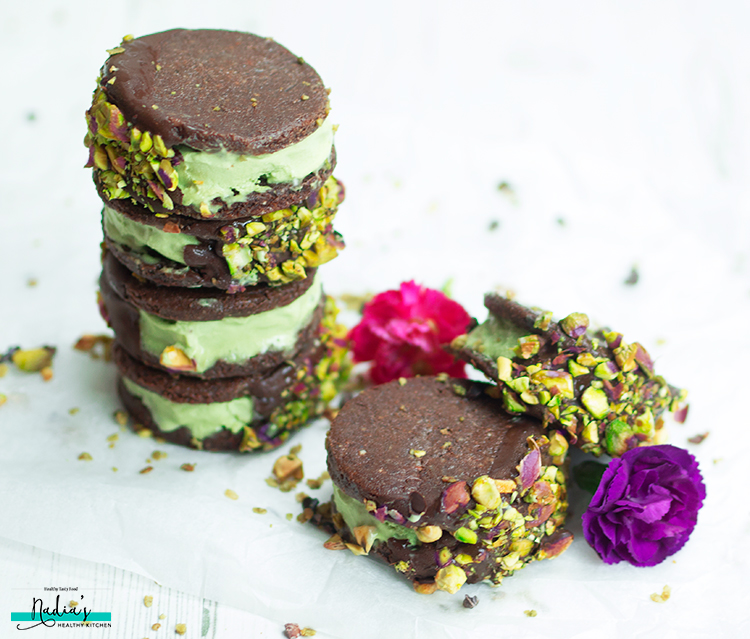 Serves 6
Ingredients
R E C I P E
••••••••••
For the chocolate cookies
1 cup (140g) raw cashews
1 cup (140g) soft dates
3 tbsp cocoa/cacao powder
¼ tsp salt
For the matcha ice cream
1 can full fat coconut milk
The solid part of another can of coconut milk (refrigerate overnight and scoop out the solid part)
7 tbsp maple syrup
2 tsp matcha powder
1 tsp vanilla extract
Instructions
WATCH THE VIDEO ABOVE FOR INSTRUCTIONS
Nadia's Healthy Kitchen https://nadiashealthykitchen.com/
If you liked this recipe, you may also like these recipes: