Butternut Squash Salad
I only recently came to realise that salads can be hearty, filling and satisfying. Before starting my clean eating journey, I always viewed salads as something you have on the side of your main meal. When going out to restaurants, I wouldn't even consider looking at the salad section of the menu. "How can a few leaves and some tomatoes fill you up? Salads are boring" I was so wrong!
You see even though the word 'salad' suggests leafy greens, all you need to add to make it into a complete and well rounded meal are the following:
Carbs – sweet potato, butternut squash, quinoa, couscous, mango…etc
Protein – chicken, eggs, halloumi, feta cheese, fish, tofu…etc
Fats – nuts, seeds, avocado, oil (in the form of dressing)
For this butternut squash salad I'm adding butternut squash (obviously), feta cheese, rocket, pumpkin seeds and dried cranberries. For the dressing, I'm using my simple honey lemon dressing.
Roasted butternut squash is so delicious, it has a similar taste and texture to sweet potato but also has a slight nutty taste.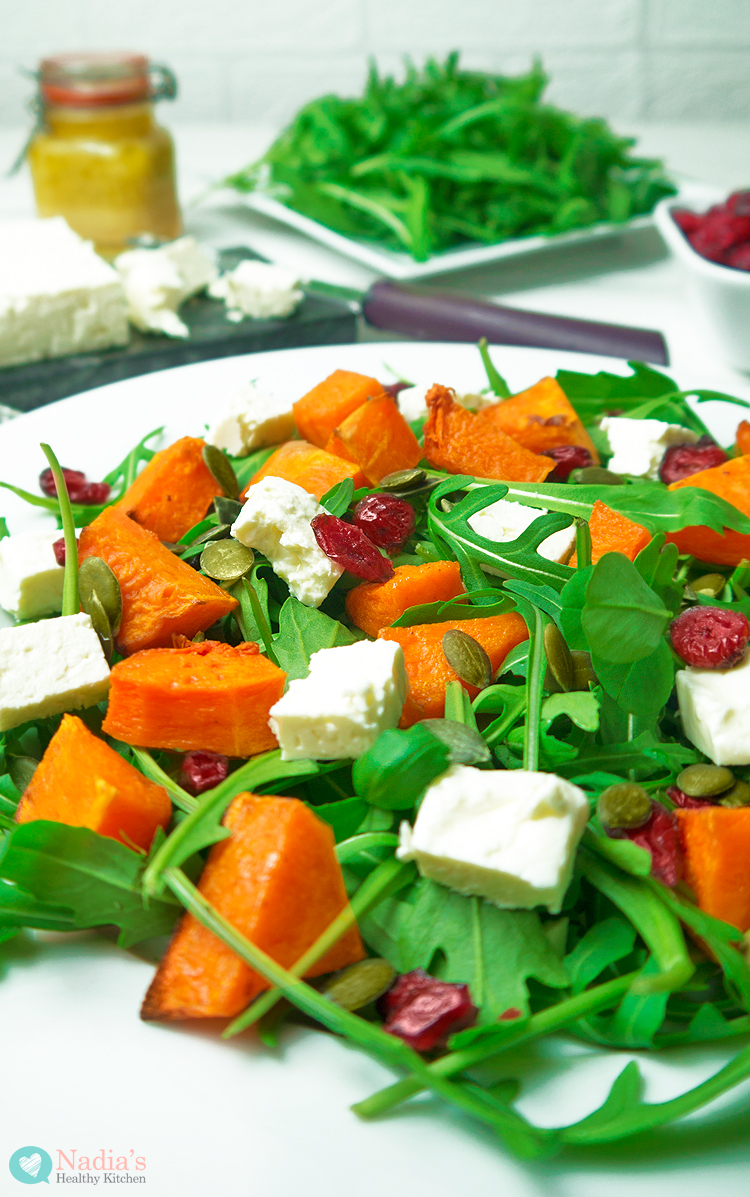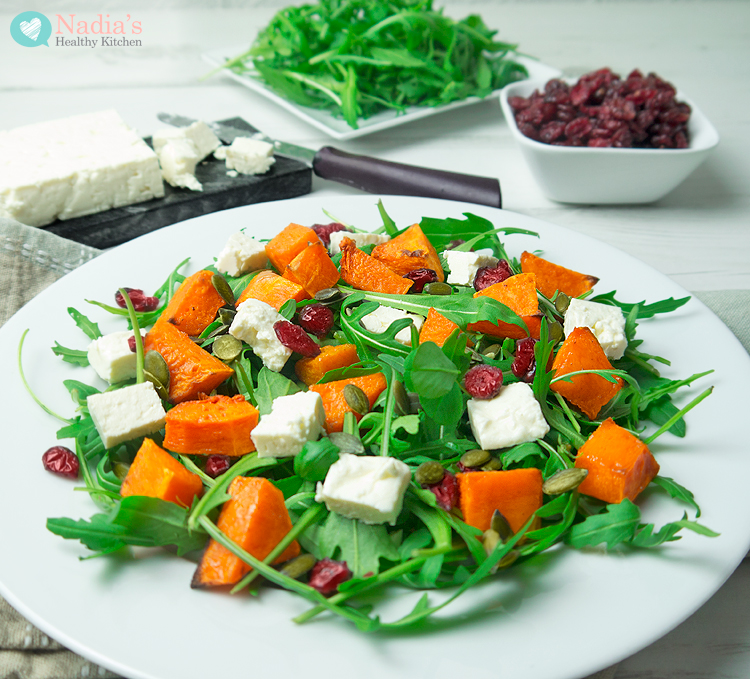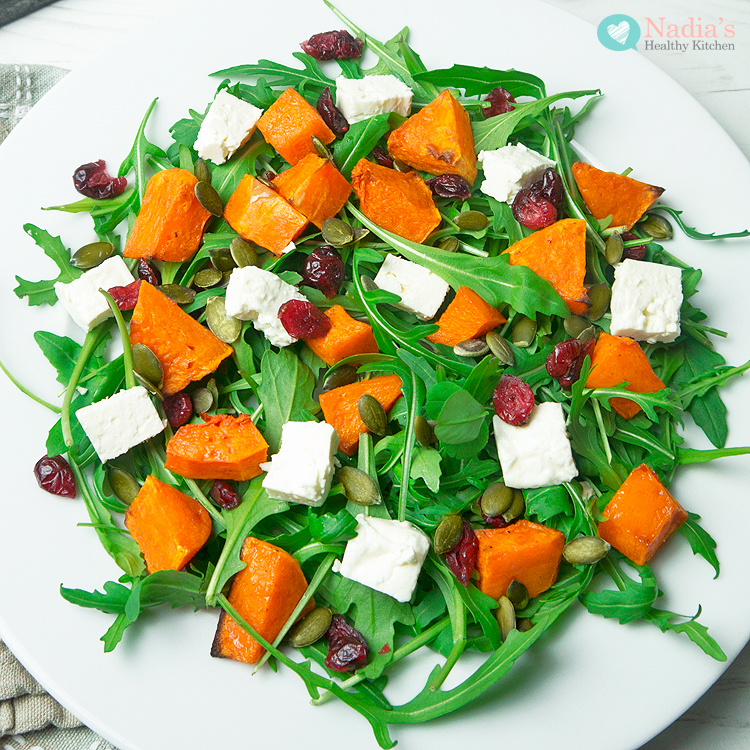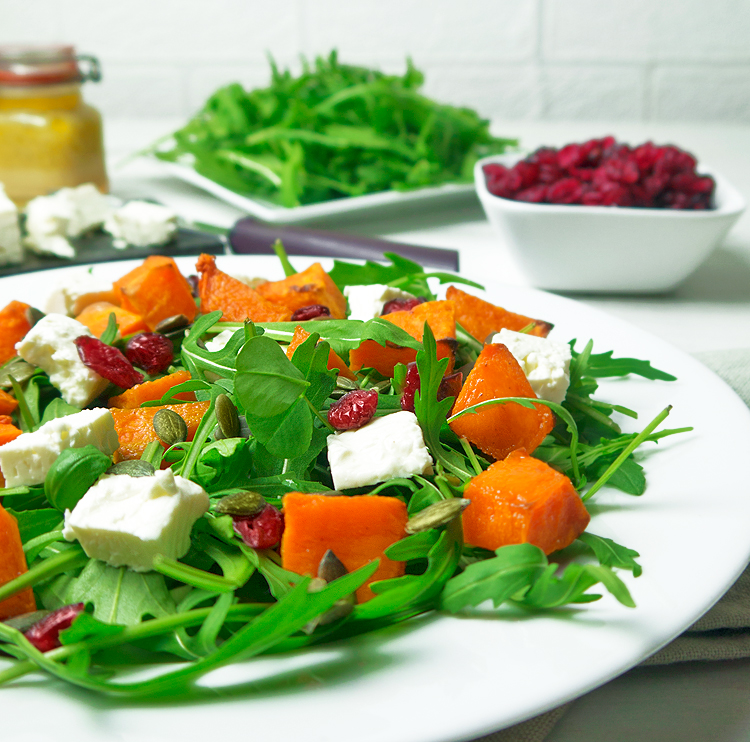 Butternut Squash Salad
2015-03-05 05:51:10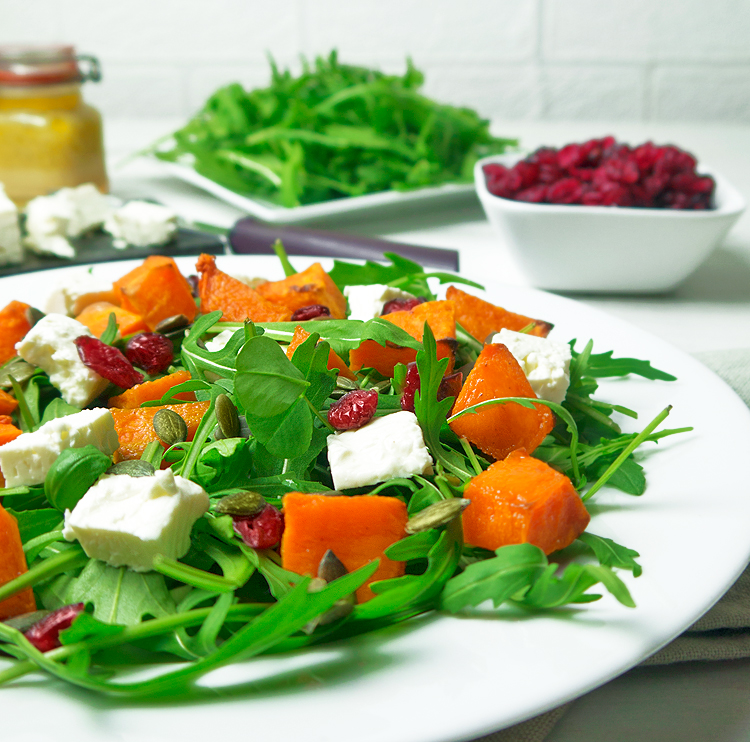 Ingredients
1 butternut squash, peeled, deseeded and diced
100g feta cheese, cubed
70g rocket
2 tbsp pumpkin seeds
2 tbsp dried cranberries
1-2 tbsp lemon honey dressing
Instructions
Preheat your oven to 200C/400F
Drizzle about 2 tsp of olive oil onto the diced butternut squash and give it a quick mix. Arrange on a baking sheet and bake for 30 minutes or until soft
Take out the butternut squash and leave to cool
Meanwhile prepare the rest of the salad by tossing the rocket, feta, pumpkin seeds and cranberries in a large serving bowl.
Add the butternut squash
Drizzle some lemon honey dressing on top
UK Health Blog - Nadia's Healthy Kitchen https://nadiashealthykitchen.com/
Share This Post