Baked Raspberry Oatmeal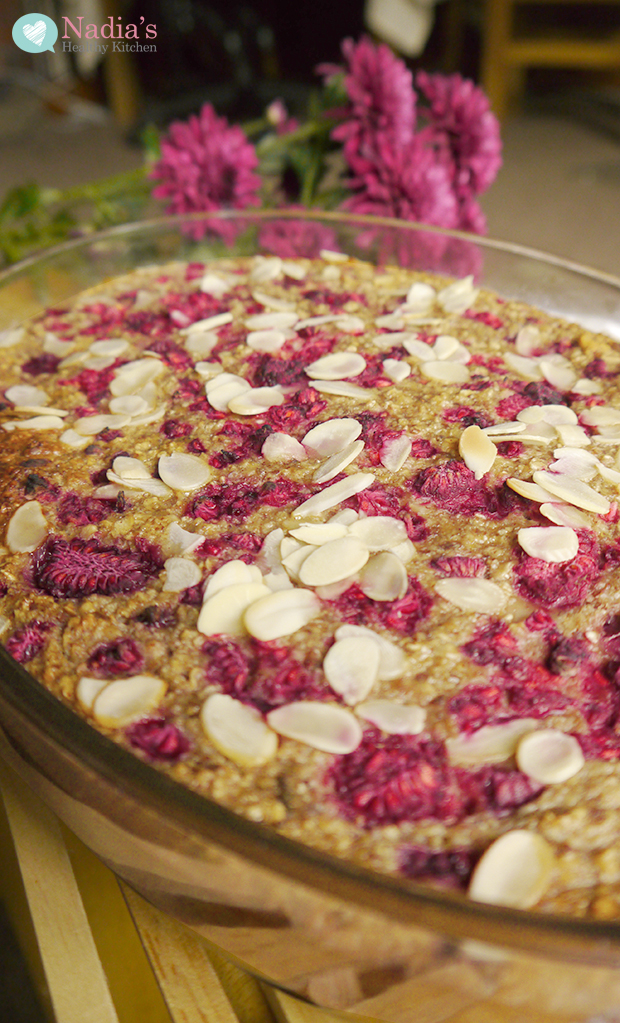 Since the weather is fast becoming colder here in the UK, I'm slowly turning away from my beloved overnight oats and towards more warm and comforting breakfasts. Oatmeal/porridge is always a good breakfast option for those cold, gloomy mornings. But what if you don't even have time to prepare that?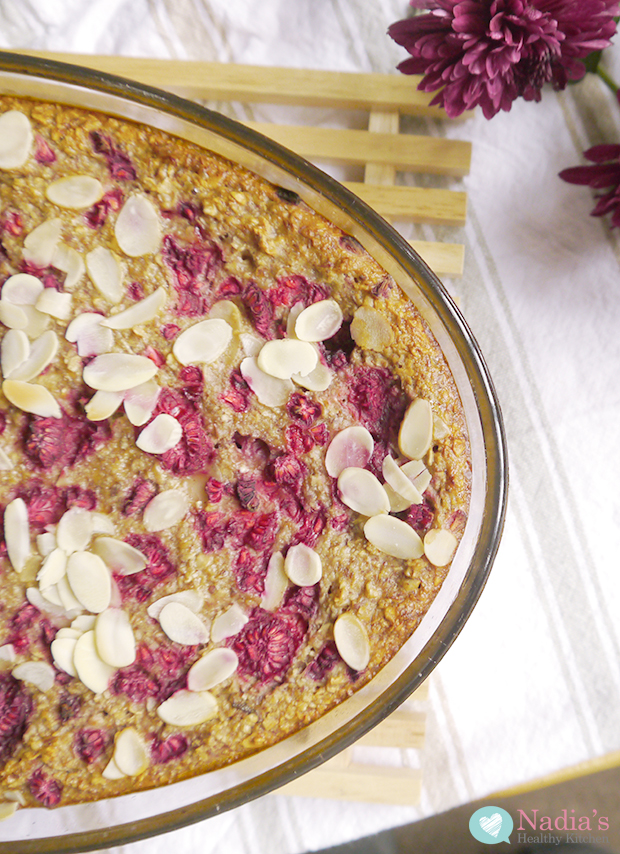 I've been loving baked oatmeal recently. The thing I love most about it is that you can prepare it on the weekend and have breakfast sorted for the rest of the week. How convenient is that? It also offers a balanced, well rounded meal that will keep you feeling full and energised whilst feeding the mind and the body with much needed vitamins, minerals and healthy fats.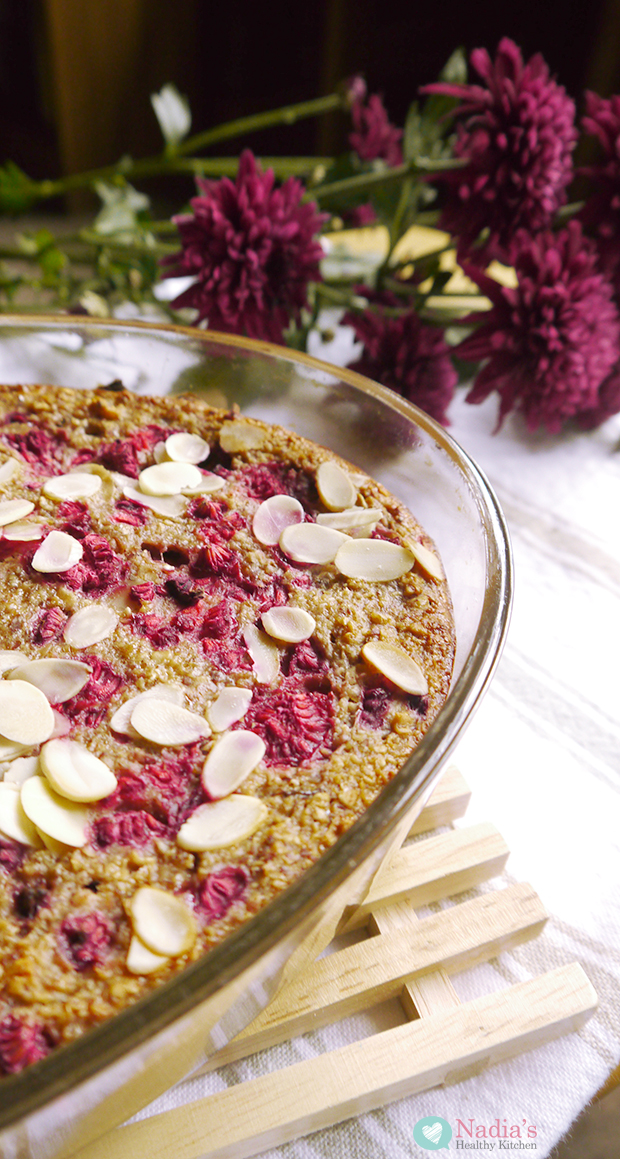 Baked oatmeal is a great option if you're looking for a healthy breakfast to feed the whole family on a cold Sunday morning. This recipe serves six and what I like to do is prepare it over the weekend, divide into six portions then leave to chill in the fridge ready to be enjoyed for breakfast during the week. Take out a portion each morning, stick it in the microwave and you'll have a warm, delicious breakfast in seconds. Alternatively, if you have a microwave at work, you could always take it with you if you don't have time for a sit down breakfast at home. Baked oatmeal is also delicious cold, so depending on your mood, you can enjoy it either way.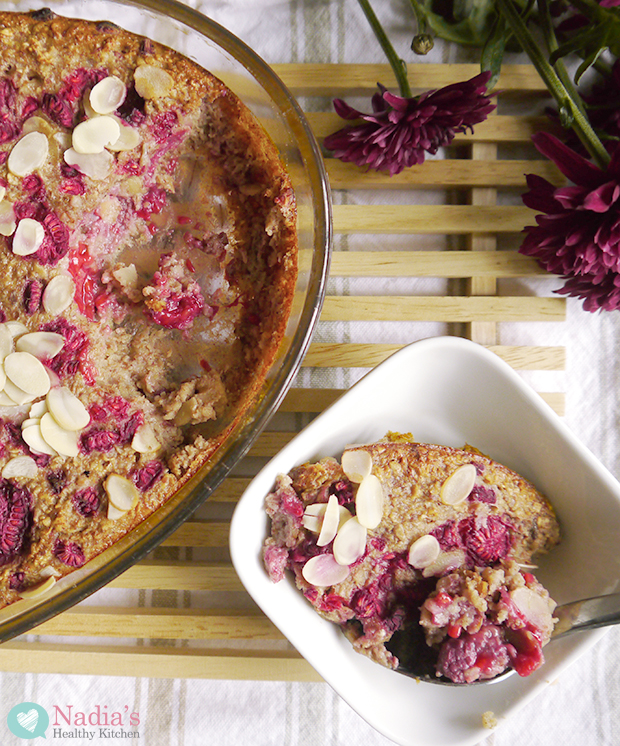 This baked raspberry oatmeal recipe is high in protein and healthy fats (from the eggs, nuts and flaxseed), high in fiber and is a good source of low GI carbs (from the oats and bananas) and contains a wealth of nutrients.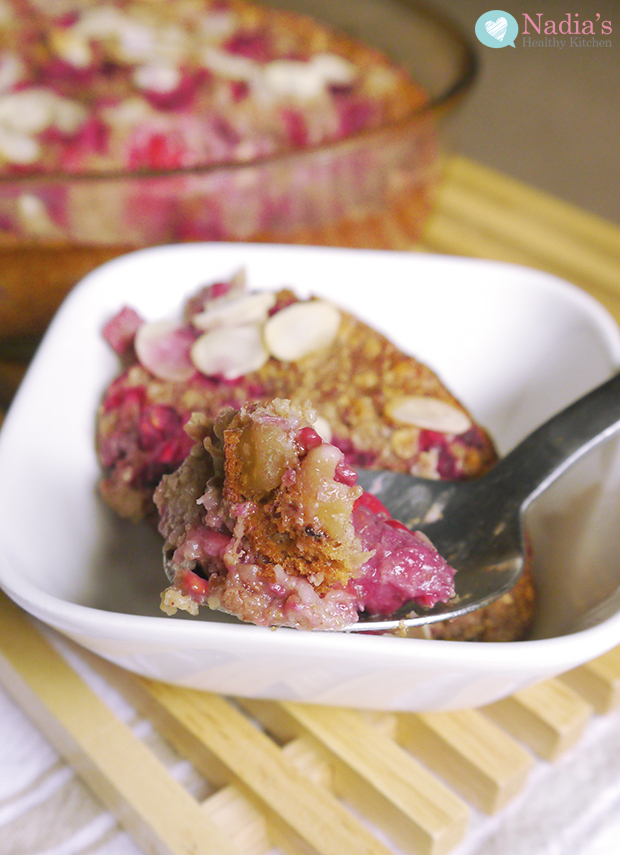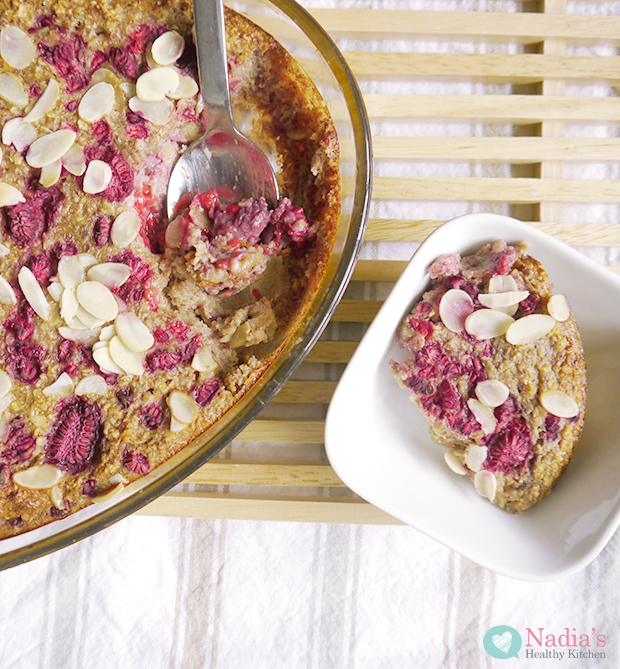 [recipe_box]
Baked Raspberry Oatmeal
Serves: 6
Ingredients:
2 cups oats*
2 bananas, mashed
1.5 cups raspberries + 1/4 cup for decoration**
1.5 cups milk***
2 eggs
¼ tsp salt
1 tsp cinnamon
1 tsp baking powder
¼ cup honey
¼ cup walnuts
¼ cup almond flakes
¼ cup milled flaxseed
*You can always make this recipe gluten free by using gluten free oats.
**I used frozen but you can use fresh.
***I used unsweetened almond milk, but any kind will work.
 Directions:
Preheat the oven to 180*C (160*C fan assisted)/350*F
In a large bowl, mix together the oats, salt, baking powder, cinnamon, flaxseed, nuts and the raspberries.
In another bowl, whisk the eggs, then add in the mashed bananas, milk and honey.
Pour the wet mixture into the bowl of oats then mix well.
Lightly oil a baking dish then pour in the oatmeal mixture.
Bake for around 50 minutes.
[/recipe_box]
 Nutritional information (estimated based on one out of six servings)
Calories: 324 calories
Fat: 13.5g
Carbs: 51.2g
Protein: 12.7g
Fiber: 10.2g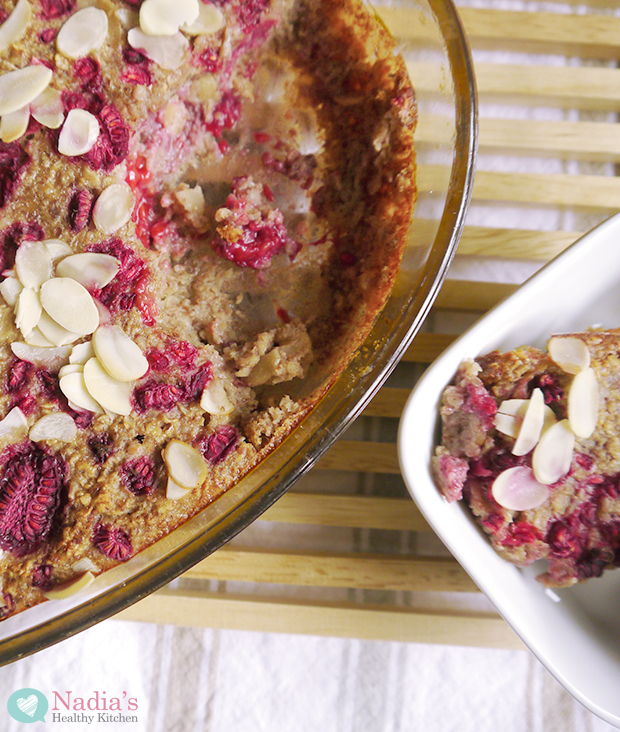 Share This Post