Asian Tahini Noodles (Vegan & Gluten-free)
I made this dish as part of my 5 Ways to Use Tahini video because to me, tahini is way more than just an ingredient in hummus.
Tahini is a staple in my kitchen and I add it to everything from porridge for extra creaminess, granola, cookies, cheesecake, snacks, ice cream, side dishes and savoury dishes like in this Asian tahini noodles dish.
I'm a big fan of Asian food – Japanese, Thai, Korean, Vietnamese…all of them! It's probably my favourite type of cuisine, after Middle Eastern of course!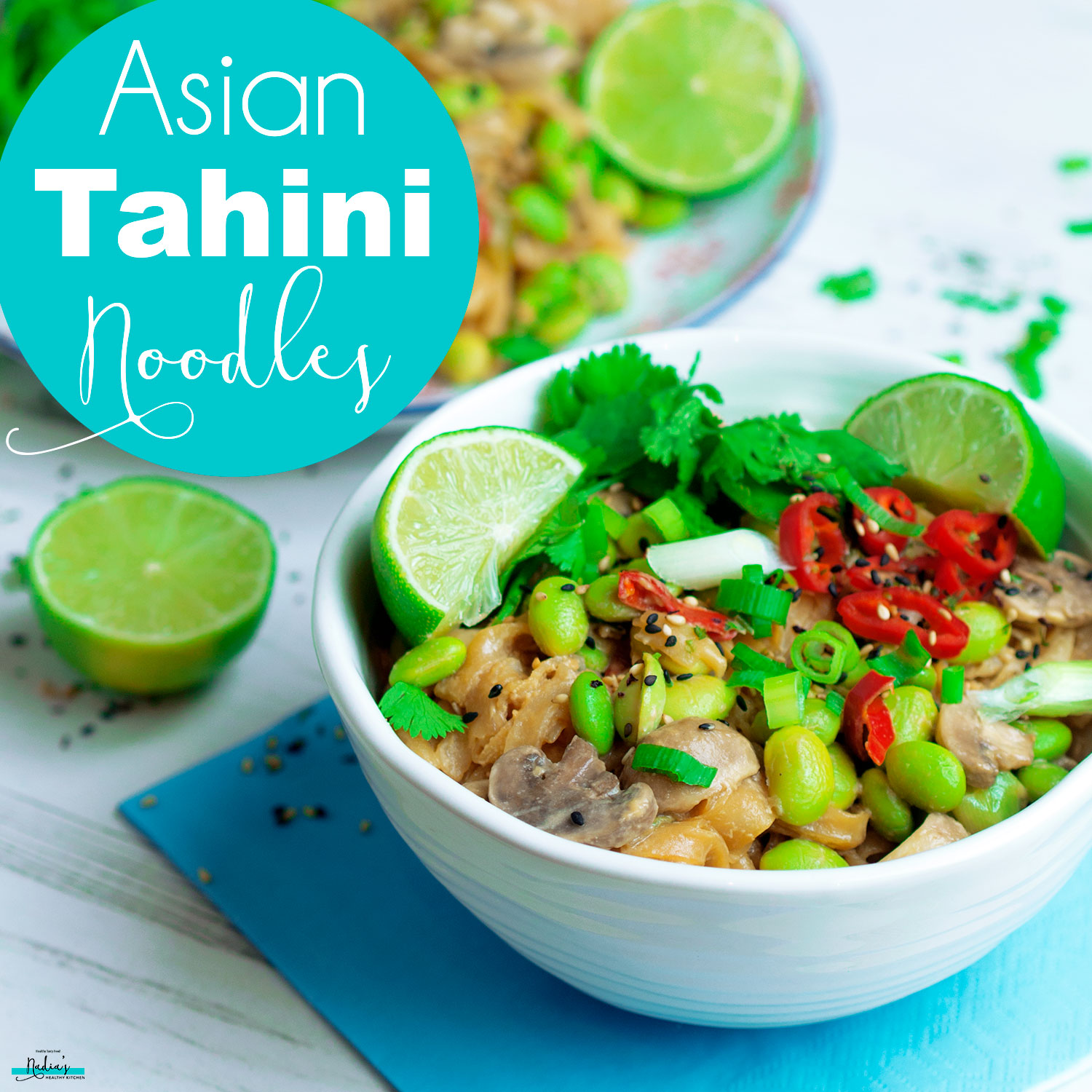 I love making this kind of dish at home because it's so quick and easy to make. I'm the type of person that goes from not being hungry at all, to starving within 30 minutes! When I'm not hungry I don't feel as inspired in the kitchen, but when I start feeling hungry I don't have the patience to make a meal that will take too much time. I realise that's a bad combination for a food blogger!
With around 13g protein per serving and only around 315 calories – this Asian tahini noodles recipes is high in B vitamins, copper, manganese, phosphorus, selenium, zinc and has good amounts of magnesium, iron, vitamin K and fibre.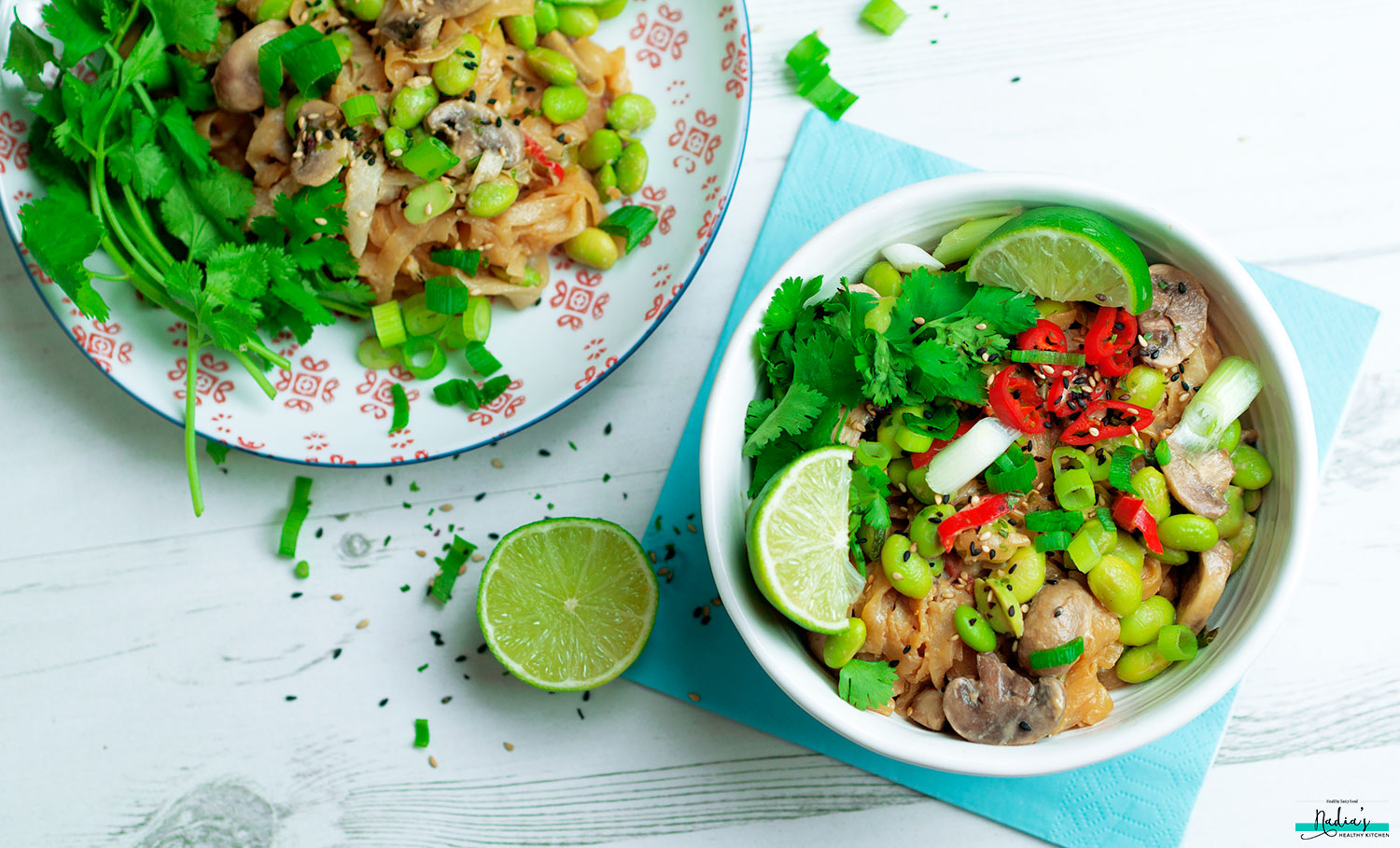 I always have rice noodles in my pantry. They're cheap and only take 5 minutes to cook! I also make sure I have frozen edamame beans when I need an easy way to add some extra protein and omega-3 to meals!
Next time you're in need of a quick lunch or dinner idea, try this recipe. The tahini adds so much richness as well as some calcium, iron and zinc. Oh, and it tastes SO GOOD! 😀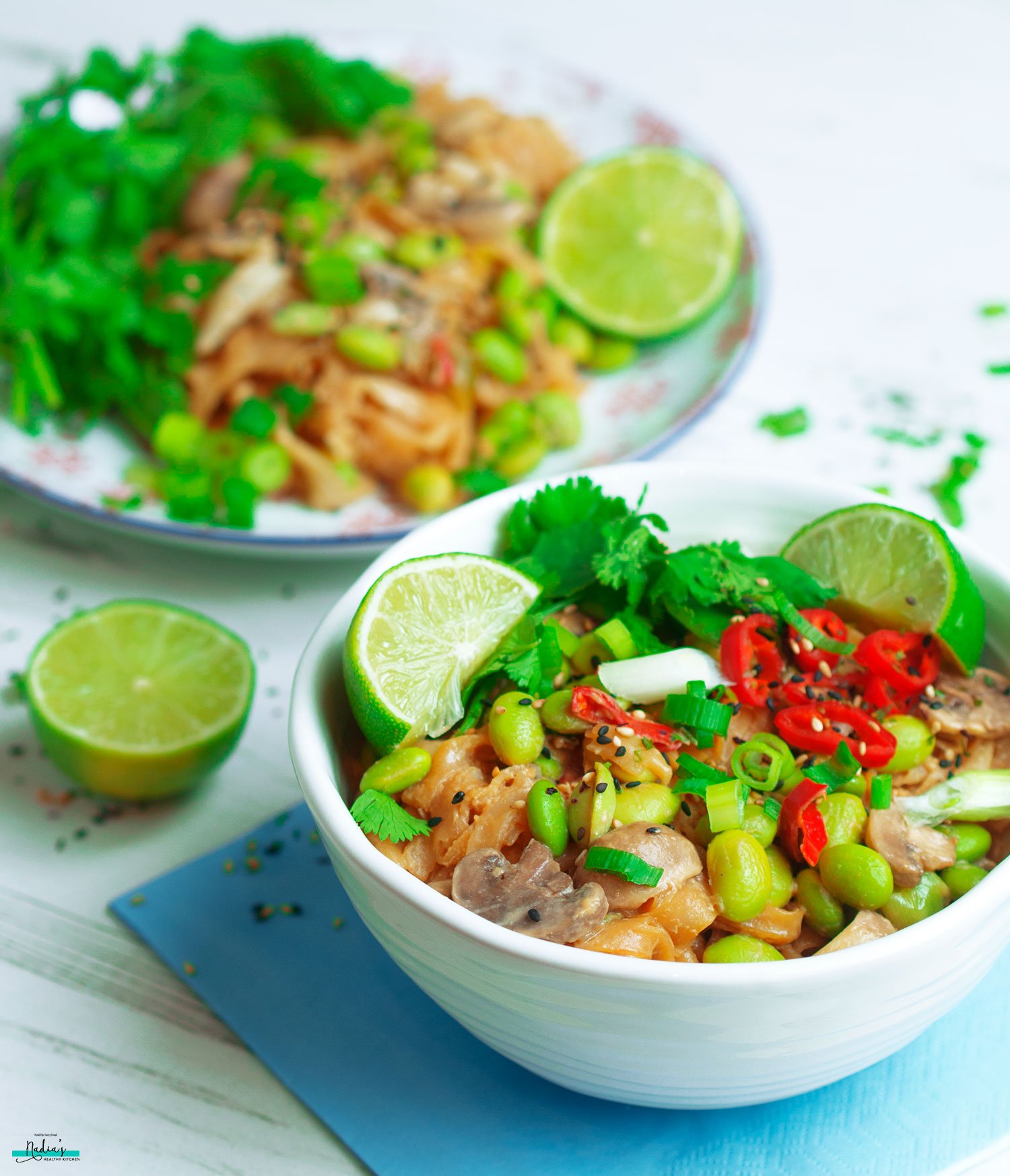 Asian Tahini Noodles
2016-09-18 06:58:01
Serves 4
Ingredients
135g rice noodles, cooked according to pack instructions
2 tbsp coconut oil
2 spring onione, chopped
2 garlic cloves, crushed
1 tbsp grated ginger
1 red chilli
200g mushrooms
200g frozen edamame beans
4 tbsp tahini
3-4 tbsp tamari
Juice of 2 limes
Drizzle of maple syrup
Topping - fresh coriander, more chilli and spring onion
Instructions
WATCH THE VIDEO ABOVE FOR INSTRUCTIONS
Heat the coconut oil in a frying pan over a medium heat.
Add the ginger and garlic. Cook for a minute then mix in the chilli.
Add mushrooms and cook for 3-5 minutes.
In a large pan, add the cooked rice noodles and top with the mushroom mixture and cooked edamame beans.
Mix in the tahini, tamari, lime juice and maple syrup.
Serve with fresh coriander and top with more chilli and chopped spring onion.
Enjoy!
Notes
Nutritional information (estimated per serving)
Calories: 315 kcal
Protein: 13.7g
Fat: 11.2g
Carbs: 42.9g
Fibre: 5.3g
Nadia's Healthy Kitchen https://nadiashealthykitchen.com/
If you liked this
Asian tahini noodles
, then you may also like these noodle recipes: