Hi and welcome to Nadia's Healthy Kitchen!
My name is Nadia and I live in Manchester, England.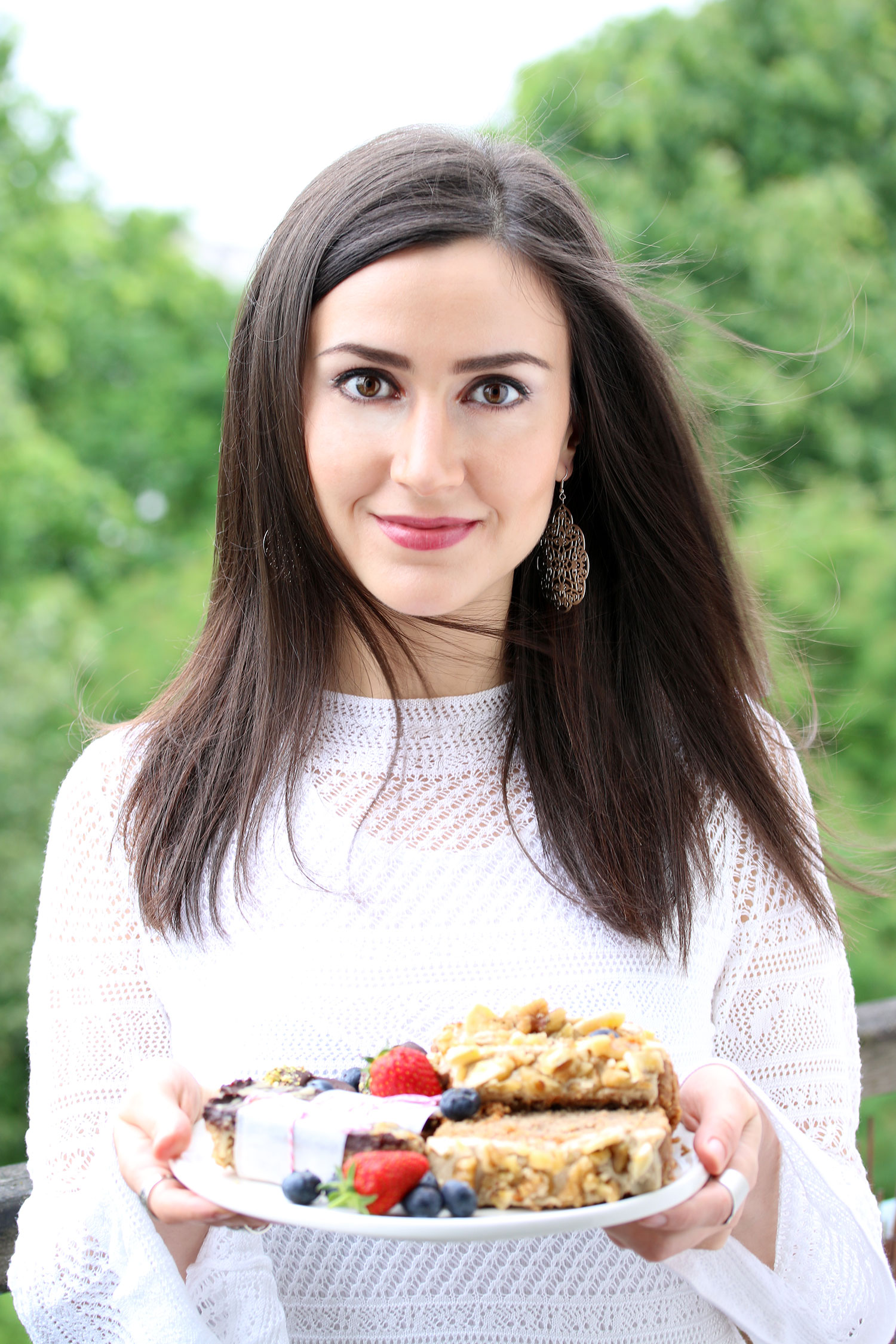 Background
Born and raised in Baghdad, Iraq to an Iraqi dad and an English mum. Growing up in Iraq during the 90's and early 00's was difficult to say the least. The sanctions imposed on the country by the UN destroyed our economy and even though my dad is an engineer, educated in the UK with a PhD under his belt, he barely made enough money to feed me and my brothers.
I remember times during my primary school years when I used to wear my brother's trousers and then throughout high school wearing my cousin's hand-me-down clothes. My dad would take me shopping once a year, usually just before Eid celebrations and I remember only being allowed one or two items (which usually was something I NEEDED for school rather than wanted). I remember a point when we were only allowed one teaspoon of sugar to make one cup of tea per day.
Things were bad, but I know we still had it so much better than so many other people living in Iraq!
My amazing mum cooked everything from scratch. She had to. There was no such thing as ready meals, and hardly any packaged foods apart from things like crisps, biscuits and chocolates, which were considered a luxury so we didn't get to enjoy many of those. It made more sense financially to buy fresh produce, which I now realise looking back was a good thing! We ate what was available in season.
I've always had anxiety issues, ever since I can remember. I guess the situation in Iraq and the way it was affecting people around me had a direct impact on my confidence and the way I dealt with things. I remember a lot of stress and anger surrounding me. Also, being a girl in Iraq meant I didn't go out much. I used to spend the school holidays locked up indoors with nothing to do. If you try to imagine being in the house for almost four months (remember this was before mobiles, internet etc.), you may understand why I felt so depressed.
There was a lot of pressure to excel academically and if you didn't (which was the case for me, especially when comparing to my brothers and other relatives) you were made to feel shame and belittlement; a feeling of not being 'good enough'. This, of course, fed into my anxieties and made them that much worse. I grew up with low self-esteem and feeling insignificant.
Over time, these negative emotional feelings started to manifest physically in the form of chronic inflammatory conditions. So now, not only do I have to deal with anxiety, but also eczema, IBS and chronic pain.
Moving to the UK
My mum, younger brother and I flew over to England in 2004 (a year after the second Gulf War had started) for what was supposed to be a short visit to see my mum's family (who she had only seen a few times during the 30+ years she lived in Iraq due to the wars and financial issues). The situation in Iraq was only getting worse so we decided to stay and try to build a better life for ourselves. The move was a massive culture shock and it wasn't easy adjusting. I was so happy to leave Iraq because for once in my life, I had a sense of freedom – I could walk down the street on my own without guys looking me up and down, like I'm some creature they've never seen the like of before!
Moving to England also meant my diet completely changed overnight. All of a sudden I was eating lots of junk food – pizzas, microwave meals, crisps, chocolate and all the other things I felt I had missed out on all those years. Also, the fact that junk food was cheaper made it all that more appealing. My mum was looking for a job and we hardly had any support from the government, so we were living on a tight budget. Before I knew it, I started piling on the weight and my IBS became ten times worse. I was getting cramps, abdominal pain and bloating. That's when my interest in 'healthy food' started, although to begin with, I had it figured out all wrong. I was focusing on low fat, just like the magazines were telling me and still ended up eating lots of junk that had almost no nutritional value.
Why I changed my diet
In 2008, I had the worst eczema flare-up of my life and it was on my face. The worst place imaginable! When it was at its worst state, my whole face was inflamed. The skin became thick, red, itchy, flaky and I simply looked awful, and I felt even worse. My confidence reached a full-time low. The eczema initially started appearing as small patches for which I was given a steroid cream that I used for a year, but as soon as I stopped using it, the eczema would return. I came across the side effects that long term use of steroids have on the skin and the health in general (because they're absorbed into the system, not just the skin!), so I decided to go cold turkey and quit steroids. That's when the flare-up exploded and that's when I started looking into natural ways of controlling it.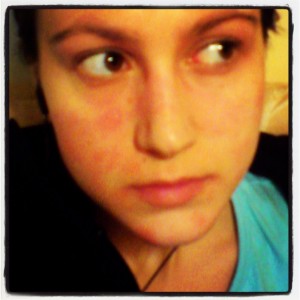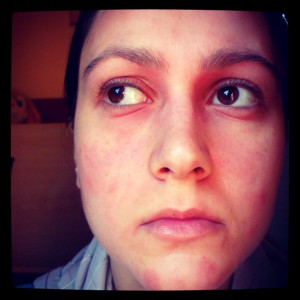 (Excuse the bad quality of the photos – I took them using an old mobile with a bad camera in 2008 and these were the only ones I took during the flare-up, as I didn't want to look at myself and didn't think I would ever need the photos in the future)
I spent a lot of time researching health, healthy eating and the impact it had on the body, specifically my chronic conditions. I slowly started changing my diet and eating habits and slowly started noticing a difference. I'm still not 100% eczema free and IBS free, but they're both so much better than they once were. I get the odd flare up every now and then, but no where near as bad as I used to.
Studying Naturopathic Nutrition
I thought if I could help myself through diet and lifestyle change, maybe I can help others, so I decided to enrol onto a naturopathic nutrition course. I'm now on my way to becoming a fully qualified nutritional therapist. There is a lot of contradicting information out there about food and diet that it's difficult to know who or what to believe. Once I've completed my qualifications (in two years, fingers crossed!), I'll be armed with the knowledge and experience that will enable me to help people who suffer with chronic conditions, want to lose weight or just be healthier in general.
Up until recently I've always felt there was no place for me in the world. I have now found something I'm extremely passionate about and I feel I have been given the opportunity to do something good and to help others, who like myself, have not been able to find answers to their conditions using conventional methods of treatment. The human body is capable of amazing things, and that includes self-healing. We just need to give it the means to thrive and function at its best capacity without using toxic and potentially harmful and invasive methods of treatment.
What I Eat
I don't follow any particular diet, but I have made a conscious decision to eat less meat and to only have it when served by relatives. The only meat I cook at home is fish/prawns but only every once and a while. I don't like labelling my diet, but if I had to I would probably be referred to as a Flexitarian (flexible vegetarian) as I eat a plant-based diet most of the time but not strictly.
I avoid refined sugars, dairy, processed and packaged foods as much as possible. I make a conscious effort to only eat wholegrain (brown rice, wholegrain spelt, oats etc.). I try to be 'good' most days, but I do let my hair down every so often.
Healthy, wholesome food can be simple, quick and tasty! It's not about living on salads and fruit. There are so many healthy foods that you can introduce to your diet. Also everything in moderation is fine (as long as you're not allergic or have an intolerance, of course!). It's all about finding a healthy balance and enjoying food and life :D.
Who are my healthy recipes suitable for?
The simple answer is EVERYONE! It does depend on the recipe though because I am aiming to make a variety of different 'types' of recipes. My recipes include:
Dairy-free recipes
Gluten-free recipes
Sugar-free recipes
Vegan recipes
Vegetarian recipes
Raw recipes
Generally healthy recipes
And some will be a mixture of the above (e.g dairy, gluten and sugar free)
A little disclaimer
I'm not perfect and I do have cheat meals/days. I eat good most of the time but I do feel that one-offs are fine, as long as I don't over indulge. Everything in moderation is fine! Sometimes I cannot avoid eating what's considered 'unclean' foods when I'm with family and friends.
I hope you enjoy my recipes. I am very much looking forward to interacting with you on here (via comments), Instagram, YouTube, Facebook, Twitter and Pinterest.
I'm not a dietician/nutritionist (yet!) but I'm well on my way to becoming a fully qualified naturopathic nutritional therapist and I'm still learning about food and nutrition. There is always room to learn and improve and I'm hoping that through interacting with you health lovers, I will inspire and be inspired by you guys!
Let's help each other live a happier, healthier lifestyle 😉
Love,
Nadia xx
Founder of Nadia's Healthy Kitchen, UK Health Blog